Getting Started with Fantasy Lotto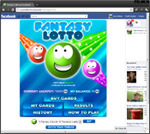 Once you're on the Fantasy Lotto Facebook page getting started couldn't be any easier.
Every day you'll receive 5 free Fantasy Coins to play along with (provided you play at least one game each day). If you wish to play more than 5 tickets in a day there is an option to buy more tickets with one fantasy coin being equal to one Facebook credit.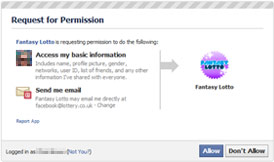 Allow Permissions to Fantasy Lotto
Facebook will ask you to give permission to the Fantasy Lotto game to instal using a pop-up window like this one. Click on allow and you will be on your way to free to play fun with Fantasy Lotto!
Buying Tickets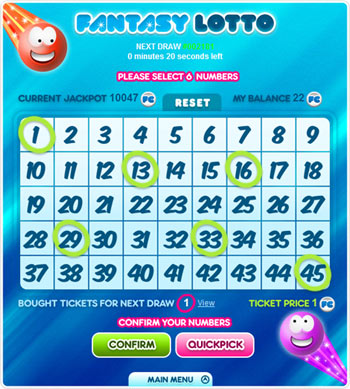 To start playing all you need to do is click on the BUY CARDS option on the home page of Fantasy Lotto and pick six numbers between 1 and 45. You can select to play your own six numbers or play via a QUICKPICK line.
The QUICKPICK option is at the top right hand side of the number matrix within the BUY CARDS option of the home page. Clicking the button will generate six random numbers. You then have the option to either PLAY those numbers or select another QUICKPICK line by clicking on the RESET button.
Once you're happy with your six numbers, click the CONFIRM button at the bottom of the number matrix page to purchase those numbers and play the next available draw. You can then either sit back and wait for the draw to take place, or buy more tickets for the same draw.
After selecting each set of numbers to play and submitting them, you'll receive a message wishing you good luck and confirming that you are in the draw.
The great thing about Fantasy Lotto is that there is no maximum amount of lines you can play. Just as long as you've got the correct amount of credits, you can play along.
When do the draws take place?
There is a new draw every five minutes so the next draw is never that far away.
How do I buy tickets?
To purchase tickets simply click on the BUY CARDS button on the home page of Fantasy Lotto and from there you can select how many tickets to wish to buy for each draw.
One Fantasy coin is equal to one lottery ticket (line).
There is also a quick buy tab at the bottom of the Fantasy Lotto home page.